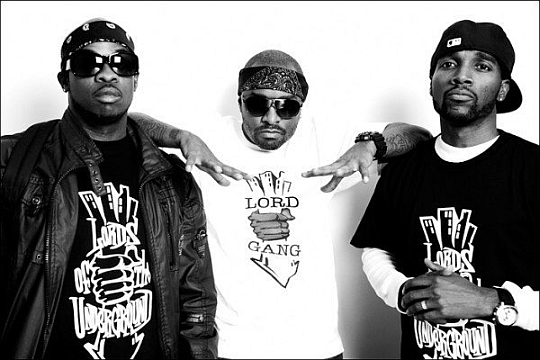 Lord of the Underground (L.O.T.U.G.) son un trío de Hip Hop, radicado en Newark, Nueva Jersey. Compuesto por los MC's Mr. Funke y Doit All Dupré luego se unirá DJ Lord Jazz (un nativo de Cleveland), cuando los tres eran estudiantes en la Universidad Shaw. Los tres son, quizás mejor recordado por los sencillos "Funky Child", "Chief Rocka" y "Tic Toc", todos los cuales fueron muy reconocidos sobre todo video musical "Funky Child" por que uno de los miembros del grupo canta con un pañal puesto en la cabeza. Su principal productor Marley Marl amigo de, K-Def.
Pete Rock remezclo sus canciones "Flow On" y "Check It" en 1994.
En sus primeras emisiones, sus dos primeros álbumes Here Come The Lords (1993) y Keepers of the Funk (1994), ganó un premio de ellos en Black Entertainment Television 1993. Que colaboró con George Clinton, y su segundo álbum de título de pista, que muestras de su trabajo, las características en él un cameo. Las pistas son más o menos abrasivos convencionales en sintonizar plenamente en su instrumentación en la mayoría de su trabajo.
La postura gangster se hace referencia en ellos, pero nunca directamente permitirse, por el grupo, excepto en 1995 en la canción " Burn Rubber ", que tuvo una arrogante actitud en favor de la piratería terrestre y presentó una línea donde Mr. Funke no modesta dijo que podía "incluso poner en peligro a sus amigos" por una jacking. Sin embargo, la canción fue grabada y es figura prominente en el coche de Newark en la película "Nueva Jersey Drive," y puede ser visto como un reflejo de que la mentalidad de la película, así como la popularidad de la alegría de conducción de automóviles en el que tomas en la ciudad en1990, en lugar de una aprobación de los delitos violentos. Porque su alianza de gangsterismo era tímida, eran parte de una serie de grupos perdido en el shuffle cuando el gangsta rap se hizo más dominante.
Su álbum de reunión Resurrección (1999), liberado vía el Jersey de la Reina Latifah Kidz da la impresión, era una liberación tan en pequeña escala que pocos lo realizaron comprendieron que había sido registrado. Da Brat hizo una critica sobre ello.
Lords of The Underground son los mejores recordados en la conexión con la edad de oro del Hip Hop. ¿Como tal?, cuándo Nas decidido en el 2007 para hacer una nueva mezcla de su canción " ¿Where Are They Now?", que pregunto donde estaban los distintos MC de la época de oro del Hip Hop incluyendo a los Lords solicitados para aparecer. Doit All Dupré realiza ocho rimas sobre la pista. Los demás figurados incluyen a Positive K, Father MC, Rob Base, Redhead Kingpin, Monie Love, y los miembros de Black Sheep, Salt-N-Pepa, Three Times Dope, The Jungle Brothers, The Fu-Schnickens y Das EFX
Doit All Dupré apareció brevemente en la escena final del último episodio de Los Soprano acreditado como Du Kelly, como parte de una serie de ominosas cifras potencialmente entrar en el comedor. También apareció en otros programas de televisión Law & Order, Two Tone y OZ serie de HBO, y la Navidad El episodio 30 de Rock de NBC (2008). También ha estado en películas independientes como Some Where In The City con Bai Ling, American Rap Stars, Rima y Razón, Durdy Caza (Xenom), Reglas de caja (Koch) Con Treach de traviesa por la naturaleza, y también ha protagonizado un Off Broadway titulada jugar Diss, Diss, y Diss, Dat.
Lords of The Underground también a tenido un aspecto destacado en el álbum del 2008 de Pete Rock " "NY's Finest" " en la canción "The Best Secret"
Lords Of The Underground - Here Come The Lords (1993)
01 Here Come The Lords
02 From Da Bricks
03 Funky Child
04 Keep It Underground
05 Check It (Remix)
06 Grave Digga
07 Lords Prayer
08 Flow On (New Symphony)
09 Madd Skillz
10 Psycho
11 Chief Rocka
12 Sleep For Dinner (Remix)
13 L.O.T.U.G.
14 Lord Jazz Hit Me One Time (Make It Funky)
15 What's Goin' On
Lords Of The Underground - Keepers Of The Funk (1994)
01 Intro
02 Ready Or Not
03 Tic Toc
04 Keepers Of The Funk
05 Steam From Da Knot
06 What I'm After
07 Faith
08 Neva Faded
09 No Pain
10 Frustrated
11 Yes Y'all
12 What U See
13 Outro
Lords Of The Underground - Resurrection (1999)
01 Intro
02 Retaliate
03 If You...
04 Take Dat
05 Path Of The Righteous Man
06 Earth, Wind & Fire (ft. Joya)
07 Imposter
08 One Day (ft. Da Brat)
09 Hennessey Pt. I
10 Funk For Ya Mama
11 Haters
12 Infinite (ft. Lunatic Asylum & Joe Bananas)
13 Blow Your Mind
14 Nasty Natti
15 Hennessey Pt. II (ft. Sah-B)
16 Excuse Me
17 Exodus
Lords Of The Underground - House Of Lords (2007)
01. Intro
02. I Love Hip Hop
03. Fab 3
04. English Mami
05. Yes Were Fresh
06. Belly of the Beast
07. Hum It Out
08. Slick Talk
09. Say My Name
10. No Pass
11. To Love Me
12. Clinic
13. Certified
14. What Yall Wanna Know
15. What Is a MC
16. Remember Me